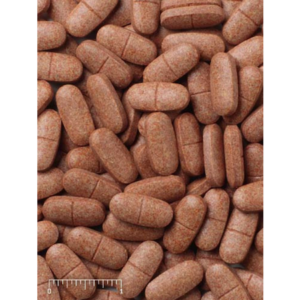 This Mazuri Vita-Zu Mammal Tablet is formulated with lutein and grape seed extract to provide supplemental water- and fat-soluble vitamins as well as antioxidants to fish-eating mammals. This supplement contains no added vitamin C. These elongated tablets are scored in the middle for easy splitting.
Formula Number: 5B43
Moisture not more than
Vitamin E not less than
Vitamin K not less than
Thiamine not less than
Riboflavin not less than
Pantothenic Acid not less than
Niacin not less than
Pyridoxine not less than
Folic Acid not less than
Biotin not less than
Lutein not less than
1.0%
180IU
0.5 mg
150 mg
2.5 mg
5.0 mg
2.5 mg
2.5 mg
1.2 mg
0.1 mg
12 mg
Feed by placing tablet into the food (fish or shellfish). Feed within 12 hours. Supplement according to body weight of the marine mammal:
| | | |
| --- | --- | --- |
| Body weight | Tablets/day | Common examples in weight ranges* |
| 0-150 kg | 2 | Juvenile seals & sea lions, female fur seals, California sea lions, harbor seals |
| 150-300 kg | 4 | Bottlenose dolphins, grey seals, male fur seals, male California sea lions, female Steller sea lions |
| 300-500 kg | 6 | Juvenile walruses, male Steller sea lions |
| 500-1,000 kg | 8 | Beluga whales, intact male Steller sea lions, female walruses |
| 1,000-1,500 kg | 10 | Male walruses |
| 1,500-2,200 kg | 12 | Orcas |
*Juveniles will change in weight over time and adult weight may vary with environment, life stage, and management. Tablet dosing should be adjusted accordingly.
Storage Conditions
Keep lid tightly closed after removing the required amount.
Store in original container in a cool (75°F or colder), dry (approximately 50% RH) location.
Ingredients cause tablets to have a speckled appearance. Coating on tablets may become speckled with exposure to air – this is not indicative of any vitamin degradation.
| UPC | Weight(lbs) | Weight(oz) | SKU | Model # | Pricing |
| --- | --- | --- | --- | --- | --- |
| | 1.3 | | | 5B43 | |