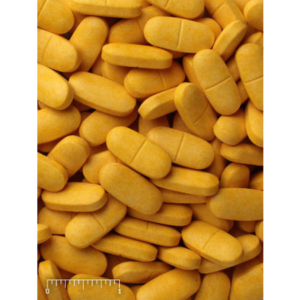 This Mazuri Vita-Zu Mammal Tablet is formulated to provide supplemental water- and fat-soluble vitamins to fish-eating mammals. These elongated tablets are scored in the middle for easy splitting.
Product Form:  Oval tablet weighing 1.5 gram. Each tablet is elongated and scored in the middle for easy splitting.
Product Size:  1.5 kg canister. ~1000 tablets per canister.
Crude protein not less than
Crude fat not less than
Crude fiber not more than
Moisture not more than
Ash not more than
0.0%
1.0%
0.0%
10.0%
8.0%
Feed to marine mammals by placing the tablet into the food (shellfish or fish).
Feed 1 tablet per 5 lb. of food.
Recommendation; feed out within 12 hours of pilling food.
Storage Conditions
For best results, tightly affix lid on container after removal of required dosage. Store in original container in a cool (75°F or colder), dry (approximately 50% RH) location. Use within 1 year of lot code.
Note: Ingredients cause pill to have a speckled appearance. Coating on tablets may become speckled with exposure to air – this is not indicative of any vitamin degradation.
| UPC | Weight(lbs) | Weight(oz) | SKU | Model # | Pricing |
| --- | --- | --- | --- | --- | --- |
| | 3.30 | | 1810893 | 5TLA | |