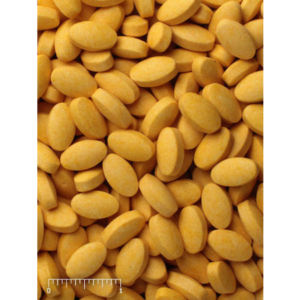 Mazuri® Large Bird Supplement is formulated for fish-eating birds consuming larger prey items to provide vitamins depleted in frozen fish in a convenient tablet form.
Moisture not more than
Vitamin E not less than
Thiamine not less than
Riboflavin not less than
Pantothenic Acid not less than
Pyridoxine not less than
Folic Acid not less than
Biotin not less than
Ascorbic Acid not less than
1.0%
125 IU
115 mg
8.5 mg
8.5 mg
8.5 mg
0.28 mg
0.13 mg
130 mg
Feed 1 tablet per 2.5 lb. (1.1 kg) of fish or shellfish by placing the tablet into the food. Feed within 12 hours.
Storage Conditions
Keep lid tightly closed after removing the required amount.
Store in original container in a cool (75°F or colder), dry (approximately 50% RH) location.
Ingredients cause tablets to have a speckled appearance. Coating on tablets may become speckled with exposure to air – this is not indicative of any vitamin degradation.
| UPC | Weight(lbs) | Weight(oz) | SKU | Model # | Pricing |
| --- | --- | --- | --- | --- | --- |
| | | 13.4 | 1810894-345 | 5TLB | |
| | 4.96 | | 1810894-346 | 5TLB | |