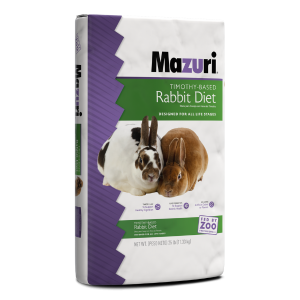 Make your rabbits dance with delight at mealtime, with these flavorful Mazuri Rabbit Food pellets. Mazuri Timothy-Based Rabbit food was developed to support optimal nutrition and chewing activity in rabbits. With the right nutrition, including high fiber Timothy hay, this feed works for rabbits in any stage of life.
Watch your pet thrive with wholesome nutrition. A uniform feed to prevent selective eating with no added arificial colors or flavors.
Supports digestion.  Made with live probiotics for gastric support.
Promotes chewing activity.  High fiber pellets encourage rabbits to chew.
Essential nutrients and fats.  With vitamin E and flaxseed.
Product Form:  1/8" x 3/8″ pellet.
Crude protein not less than
Crude fat not less than
Crude fiber not less than
Crude fiber not more than
Moisture not more than
Ash not more than
Calcium not less than
Calcium not more than
Phosphorus not less than
Salt not less than
Salt not more than
Sodium not more than
Vitamin A not less than
Vitamin E not less than
14.0%
1.5%
18.0%
22.0%
2.0%
9.0%
0.65%
1.15%
0.50%
0.75%
1.25%
0.50%
8,000 IU/lg
30 IU/lb
Provide Mazuri® Timothy Based Rabbit Diet free-choice. Ensure that food is replaced frequently and provided in appropriate feeders.
If desired, additional food items should be offered at 10% of the diet or less (as is basis). The choice of supplementation will vary with life stage and animal preference. Mature or elderly rabbits may benefit from food items with lower calcium or high oxalate levels to reduce calcium absorption (e.g., celery, broccoli, spinach). Growing animals, gestating and lactating may benefit from food items with higher calcium and protein (e.g., alfalfa hay). Fruit supplementation should be minimal to avoid excess dietary sugar.
See product sheet for dietary composition when feeding different levels and types of hay.
Provide plenty of fresh clean water at all times.
Storage Conditions
For best results, ensure polybag seal is fully closed during storage, or store contents of open paper sack in container with sealing lid. Store in a cool (75°F or colder), dry (approximately 50% RH) location. Freezing will not harm the diet and may extend freshness. Adhere to the "Best if used by" date or use within 1 year of bag manufacturing.
| UPC | Weight(lbs) | Weight(oz) | SKU | Model # | Pricing |
| --- | --- | --- | --- | --- | --- |
| 727613006136 | 5 | | 0039440 | 5M15 | |
| 727613007195 | 25 | | 0043945 | 530Q | |