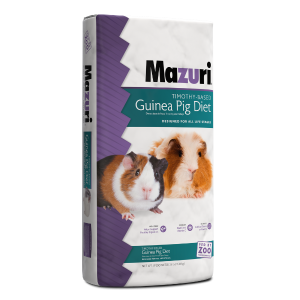 Your guinea pigs will squeal with delight at mealtime over this nutritious and delicious Mazuri® Guinea Pig Food. This guinea pig food supports chewing activity and boasts a taste that even the pickiest pig will love. Our pellets offer proper guinea pig nutrition at any stage of life – with balanced protein and minerals, and all the Vitamin C your guinea pigs need to be happy and healthy.
Timothy hay based pellet – Lower protein and better mineral balance than alfalfa.
Higher fiber – To help support chewing activity and a healthy digestive system.
Contains stabilized vitamin C – Remains active longer than traditional vitamin C.
No artificial colors or flavors.
Product Form:    Pellet size:  5/32″ diameter x 1/2″ length.
Product Size:    25 lb. net weight paper sack. Also available in 5 lb. net weight bag.
| | |
| --- | --- |
| Crude protein | 18.0% min |
| Crude fat | 4.0% min |
| Crude fiber | 14.0% min |
| Crude fiber | 18.0% max |
| Moisture | 12.0% max |
| Ash | 9.0% max |
| Vitamin E | 75 IU/kg min |
| Ascorbic acid | 1,000 mg/kg min |
| Total Microorganisms | 270,000 CFU/g min |
(Lactobacillus acidophilus, Lactobacillus casei, Bifidobacterium thermophilum)*
*Contains a source of live (viable) naturally occurring microorganisms.
Feed free choice to guinea pigs, along with plenty of fresh clean water. Supplemental food items may be provided but should not make up more than 20% of the total diet.
Care should be taken to choose appropriate supplemental food items. Mature guinea pigs may benefit from higher fiber, lower protein food items (e.g., grass hay), while growing, gestating or lactating guinea pigs may benefit from higher protein food items (e.g., alfalfa hay). Guinea pigs may be provided vegetables (predominantly dark leafy greens) and limited fruit (less than 5% of total intake) to provide enrichment.
Thoroughly wash feeding and watering bowls on a regular basis. It is always good practice to wash hands thoroughly after feeding and/or handling pets. This diet is not for human consumption.
Storage Conditions
For best results, store contents of open bag in container with sealing lid. Store in a cool (75°F or colder), dry (approximately 50% RH) location. Freezing will not harm the diet and may extend freshness. Use within 1 year of bag manufacturing.
| UPC | Weight(lbs) | Weight(oz) | SKU | Model # | Pricing |
| --- | --- | --- | --- | --- | --- |
| 727613566432 | 25 | | 0001444 | 5664 | |
| 727613010287 | 5 | | 3002737-245 | 5E6A | |