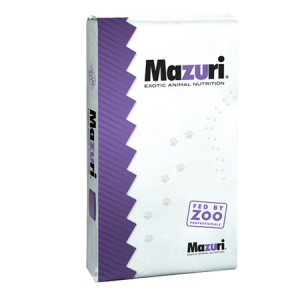 Mazuri® Exotic Feline – Small food supplies complete life-cycle nutrition for reproduction, lactation, growth and maintenance for small exotic felines. This small exotic feline food contains high protein and high energy to promote good body condition. Added fish oils provide a rich, natural source of omega-3 fatty acids.
Complete nutrition – No supplementation required.
High protein and high energy – Promotes good body condition.
Contains fish oil – A rich, natural source of omega-3 fatty acids.
Palatable – Even adult exotic felines accept this dry diet.
Dry diet – Shelf stable; no need to store frozen.
Product Form: Extruded pellet: 3/4″ length x 1/4″ x 1/4″ diameter
Crude protein not less than
Crude fat not less than
Crude fiber not more than
Moisture not more than
Ash not more than
36.0%
20.0%
4.0%
12.0%
8.5%
Use the following 2-step equation to determine a daily total-diet feeding rate for small felines, on a dry matter (DM) basis*. If animals are supplemented with other foods, the amount of Mazuri® Exotic Feline Diet, Small offered must be reduced. If feeding meat items, the higher moisture content of these must be factored to ensure inclusion at proper amounts.
140 x (kg body weight) 0.75 = Feed intake (kcal/day)
Feed intake / 3,835 = kilograms of diet to feed daily, DM
In general, by using equations above, the recommended feed intake will be 1-3% of body weight per day.
Animals that are growing, reproducing (particularly during late stages of pregnancy), or lactating lactation will have higher needs.
While these equations are a useful starting point, it is always best to feed to body condition and keep animals at optimal body condition even if that means feeding more, or often less, than the equation would predict.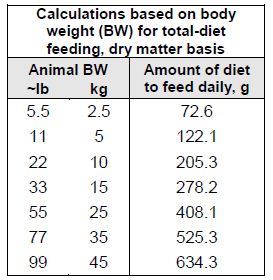 *Recommendations for exotic felines range from 55 – 260 kcal x kg BW (NRC of Dogs and Cats, 2006.)
Storage Conditions
For best results, store contents of open bag in container with sealing lid. Store in a cool (75°F or colder), dry (approximately 50% RH) location. Freezing will not harm the diet and may extend freshness. Use within 1 year of bag manufacturing
| UPC | Weight(lbs) | Weight(oz) | SKU | Model # | Pricing |
| --- | --- | --- | --- | --- | --- |
| 727613000615 | 25 | | | 5M54 | |