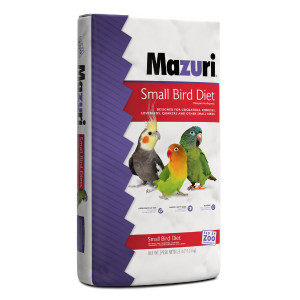 Mazuri Small Bird Diet is a complete bird food for small psittacines and passerines. This nutritionally complete small bird food, formulated in multi-sized particles, can be used as the primary diet for non-breeding birds.
Mixed particle size – Supports natural foraging behavior.
Better than seeds – Less waste, no sorting, consistent nutrition.
Contains ground flaxseed – A source of essential omega-3 fatty acids to support overall health.
No added artificial colors or artificial flavors.
Contains antioxidant vitamin E  – An essential nutrient.
Product Form:  Extruded feed:  2 particle sizes
Product Size: 25 lb. net weight paper sacks.
Crude protein not less than
Crude fat not less than
Crude fiber not more than
Moisture not more than
Ash not more than
Vitamin E not less than
Omega-3 fatty acids not less than
Total Microorganisms not less than
14.5%
5.0%
5.0%
12.0%
8.0%
150 IU/lb
0.50%
270,000 CFU/g
(Lactobacillus acidophilous, Lactobacillus casei, Bifidobacterium thermophilum, Enterococcus faecium)
Contains a source of live (viable) naturally occurring microorganisms.
Feed free choice to non-breeding birds and provide fresh food daily.
A 3 ½ oz (100 g) bird will typically eat between 2 to 3 Tbsp (10 – 15 g) per day, while a 1 lb. (450 g) bird may consume between 1/3 to 1/2 cup (33 – 40 g) per day.
Fresh fruits, vegetables and seeds may be provided, but no more than 20% of the total diet.
To switch birds to this diet, gradually replace your old diet with this diet at the rate of 10% per day. Do not overfeed during this transition time and monitor your bird to be sure it is eating the new diet.
Thoroughly wash feed and water bowls on a regular basis. It is always good practice to wash hands thoroughly after feeding and/or handling pets. This diet is not for human consumption.
Storage Conditions
For best results, ensure polybag seal is fully closed during storage, or store contents of open paper sack in container with sealing lid. Store in a cool (75ºF or colder), dry (approximately 50% RH) location. Freezing will not harm the diet and may extend freshness. Adhere to the "Best if used by" date or use within 1 year of bag manufacturing.
| UPC | Weight(lbs) | Weight(oz) | SKU | Model # | Pricing |
| --- | --- | --- | --- | --- | --- |
| 727613010935 | 2.5 | | 0054885 | 56A6 | |
| 727613601928 | 25 | | 0001452 | 56A6 | |