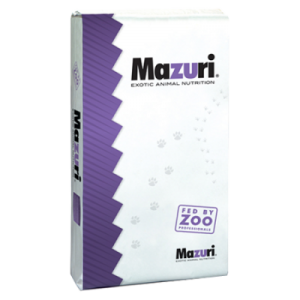 Mazuri Sheep Locu is a low-copper, moderate starch sheep diet that complements normal roughage intake to ensure proper sheep nutrition. These pellets are suitable for sheep at all life stages.
Moderate-starch formulation – Optimizing the health and longevity in exotic ruminants.
High in fermentable fibers and sugar – Promotes healthy rumen fermentation
Reduced and controlled phosphorus formulation – Helps assist in proper mineral metabolism.
No copper added – Specially formulated for sheep species with low copper tolerances.
Contains flaxseed – Source of Omega-3 fatty acids
Balanced nutrition – Provides the nutrition needed to balance deficiencies in roughage.
Concentrate form – Easily adapted to the type of animal being fed, diet, and life stages.
Pellet form – Easy to feed; minimizes waste.
Product Form: Pellet – 5/32″ diameter x 1/2″ length.
Product Size: 50 lb. net weight paper sack.
Crude protein not less than
Crude fat not less than
Crude fiber not more than
Acid Detergent Fiber not more than
Ash not more than
Calcium not less than
Calcium not more than
Phosphorus not less than
Salt not less than
Salt not less than
Sodium not more than
Selenium not less than
Selenium not more than
Vitamin A not less than
12.5%
3.0%
25.0%
30.0%
8.0%
0.55%
1.05%
0.35%
0.75%
1.25%
0.75%
0.45 pp,
0.54 ppm,
2,200 IU/lb
Feed as a supplement to the normal maintenance diet for ruminants such as sheep kept in restricted circumstances. Feed ad libitum in addition to access to normal roughage diets. Suitable for trough feeding. Always provide animals access to plenty of fresh, clean water.
| UPC | Weight(lbs) | Weight(oz) | SKU | Model # | Pricing |
| --- | --- | --- | --- | --- | --- |
| 727613565510 | 50 | | 0005496 | 5655 | |