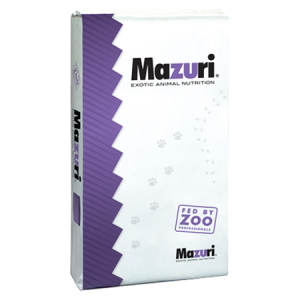 Mazuri Ratite Breeder Diet is a complete ratite food designed specifically for breeding ratites. This nutrient-dense ratite diet is designed to provide nutrients at sufficient levels during breeding while reducing feed consumption.
Crude protein not less than
Crude fat not less than
Crude fiber not more than
Ash not more than
Moisture not more than
Calcium not less then
Calcium not more than
Phosphorus not less than
Salt not less than
Salt not more than
Sodium not more than
23.0%
3.0%
8.0%
10%
12%
1.7%
2.3%
1.0%
0.25%
0.75%
0.50%
Designed to be fed to breeding ratites.
Feed free choice from 2-4 weeks before breeding normally starts to two weeks after the last egg is laid.

Consumption by emus will be between 0.75 to 1.5 pounds and ostriches should consume at least 4 pounds of feed per bird per day, depending upon egg production, body weight and primarily upon how much the animal will eat.

Supplement with calcium as follows:

Mix the oyster shell with the feed at the appropriate level depending upon production level of the animal.
Storage Conditions
For best results, store contents of open bag in container with sealing lids.  Store in a cool (75°F or colder), dry (approximately 50% RH) location.  Use within 1 year of bag manufacturing.
| UPC | Weight(lbs) | Weight(oz) | SKU | Model # | Pricing |
| --- | --- | --- | --- | --- | --- |
| | 50 | | 0001478 | 5M31 | |