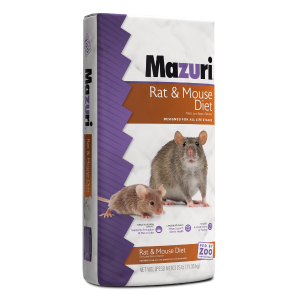 Mazuri Rat & Mouse Diet offers a vegetarian formula in pellet form for rats and mice in all life stages. Mazuri Rat & Mouse Diet contains yucca shidigera extract to reduce ammonia odors. No supplements are needed when using this rat and mouse food. This is a vegetable-based formulation that contains natural Vitamin E, and flaxseed.
Nutritionally complete – No vitamin or mineral supplementation needed.
Vegetable-based formulation.
Contains natural vitamin E.
Contains flaxseed – Source of Omega-3 fatty acids.
Pellet form – Easy to feed; minimizes waste.
Dried yucca shidigera extract – Shown to reduce aerosol ammonia in animal facilities.*
*Relevant research information:
Headon, D.R. and K.A. Dawson, 1990. Yucca extract controls atmospheric ammonia levels. Feedstuffs. 62:15-16
Product Form: Oval pellets: 3/8" x 5/8" diameter x 1" length.
Crude protein not less than
Crude fat not less than
Crude fiber not more than
Moisture not more than
Ash not more than
Vitamin E not less than
23.0%
6.5%
4.5%
12.0%
8.0%
50 IU/kg
Feed free-choice to rodents. Feed consumption will be based on size of rodent species and life stage. Use the following examples as guidelines, per animal:

Rats: Adult will eat 15 to 30 grams of feed per day.
Mice: Adult will eat 4 to 5 grams of feed per day daily. Some of the larger strains may eat as much as 8 grams per day.
Hamster and Gerbils: Feed free choice.

For breeding animals, we suggest Mazuri® Rodent 6F.
Always provide your animal with plenty of fresh, clean water.
Storage Conditions 
For best results, ensure polybag seal is fully closed during storage, or store contents of open paper sack in container with sealing lid. Diets are packaged in sealed containers under nitrogen to ensure optimal freshness. Store in a cool (75o F or colder), dry (approximately 50% RH) location. Freezing will not harm the diet and may extend freshness. Adhere to the "Best if used by" date or use within 1 year of bag manufacturing.
| UPC | Weight(lbs) | Weight(oz) | SKU | Model # | Pricing |
| --- | --- | --- | --- | --- | --- |
| 727613010362 | 2 | | 0052166 | 5663 | |
| 727613566333 | 25 | | 0001442 | 5663 | |