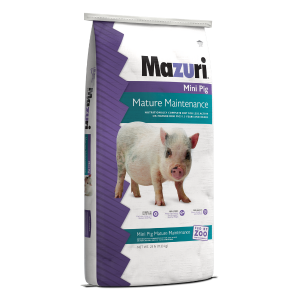 Pigs go spinning for Mazuri® Mini Pig Mature Maintenance Diet. It has a flavor they love and complete nutrition you can rely on. Our low-energy, high-fiber pellets meet the needs of mini pigs in their later years – supporting active, healthy lives. Mazuri® Mini Pig Mature Maintenance Diet satisfies even the hungriest pig without compromising their healthy weight. Specifically formulated for less active mini pigs 1.5 years and older, and for all mini pigs over 3 years of age that are not reproducing or lactating.
Watch your pet thrive with complete nutrition.  No vitamin or mineral supplements necessary.
Support healthy weight and skin.  Probiotics, biotin, niacin and balanced minerals for optimal absorption.
Maintain optimal growth and consumption rates.  With a moderate energy, high0fiber ratio.
Support proper activity levels and growth. Amino acid balanced for typical growth.
Support their skin and immune system. With flaxseed, zinc amino acid complex and vitamin E.
Odor control. Contains Yucca schidigera extract to help control manure odors.
Product Form: Pelleted feed:  5/32″ diameter x 1/2″ length
Product Size:   25 lb. net weight paper sack.
Crude protein not less than
(This includes not more than 0.5% equivalent
crude protein which is not nutritionally available
to potbellied or mini pigs)12.0%
Lysine not less than 4.0%
Crude fat not less than 9.00%
Crude fiber not less than 13.00%
Crude fiber not more than 12.00%
Moisture not more than 8.00%
Ash not more than 0.80%
Calcium not less than 1.30%
Calcium not more than 0.70%
Phosphorus not less than 0.45%
Salt not less than 0.95%
Salt not more than 0.30 ppm
Selenium not less than 250 ppm
Zinc not less than 50 IU/lb
Vitamin E not less than 40 mg/lb
Niacin not less than 0.80 mg/lb
Biotin not less than 0.75%
Omega 3-Fatty acids not less than 270,000
Total microorganisms not less than0.75%
Feed mini pigs between 1-2% of their body weight daily. The feeding amounts are guidelines and should be adjusted based on the mini pig's body condition, activity level, other foods offered, environmental temperatures, and social structure. Feed twice per day.
Grass, hay or produce may be beneficial for more mature mini pigs to help keep them feeling full but is not necessary in the diet and should not consist of more than 40% of the diet.
Gestation and lactation: Transition to 50% Mazuri® Mini Pig Active Adult and 50% Mazuri® Mini  Pig Youth. For higher energy requirements, as in the case of large litter size or multiple breedings, increase Youth to 60% of daily intake.
Storage Conditions
For best results, store contents of open bag in container with sealing lids.  Store in a cool (75°F or colder), dry (approximately 50% RH) location.  Use within 1 year of product manufacturing.
| UPC | Weight(lbs) | Weight(oz) | SKU | Model # | Pricing |
| --- | --- | --- | --- | --- | --- |
| 727613014582 | 25 | | 3005272-203 | 5Z4B | |