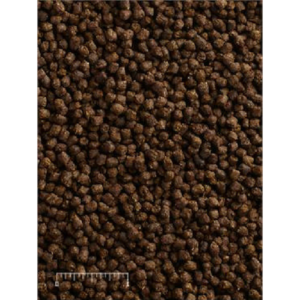 Mazuri LS Aquatic Herbi-Blend Diet is exotic fish food for saltwater and marine aquarium fish feeding that is low in starch and high in fiber to meet the nutritional requirements of plant-eating fish. This Mazuri® fish food is slow-sinking in saltwater to allow for feeding at different levels. This aquatic diet, is supplemented for vibrant coloration and can be blended with Mazuri® LS Aquatic Carni-Blend Diet for omnivorous species.
Contains all vitamins and trace minerals known to be required by fish.
Low starch product – More similar to the carbohydrate content of wild-type diets.
Stabilized source of vitamin C – Improves shelf-life and water stability and may help with resistance to stress.
Multiple complex carbohydrate sources – Provides variety and mimics some wild-type diet components.
Contains pigments – Promotes good coloration of display fish.
Can be blended – Mazuri® LS Aquatic Herbi-Blend Diet provides a higher fiber formulation for herbivorous species and can be mixed with Mazuri® LS Aquatic Carni-Blend Diet for omnivorous species.
Slow sinking – Particles will move down through the water column allowing for feeding at different levels when fed in salt water.  In freshwater, this product will sink very rapidly.
Product Form:  Extruded particle:  1/8″ x 1/8″ length.
Product Size:  25 lb. net weight paper sack.
Crude protein not less than
Crude fat not less than
Crude fiber not more than
Ash not more than
Calcium not less than
Calcium not more than
Phosphorus not less than
Sodium not more than
35.0%
8.5%
16.0%
11.0%
2.25%
2.75%
0.90%
0.55%
Mazuri® LS Aquatic Herbi-Blend Diet is suitable for fish with a natural diet composed predominantly of plant protein.  For appropriate nutrition for herbivorous species, offer Mazuri® LS Aquatic Carni-Blend Diet.
Feed to aquarium fish.

Scatter over aquarium surface.
Feed only as much as fish will readily consume in 5-10 minutes.

Do not over feed as excess feed will decompose in the water, resulting in poor water quality, which in turn can be harmful to the health of the fish.
Storage Conditions
For best results, store contents of open paper sack in container with sealing lid.  Store in a cool (75°F or colder), dry (approximately 50% RH) location.  Freezing will not harm the diet and may extend freshness.  Use within 1 year of bag manufacturing.
| UPC | Weight(lbs) | Weight(oz) | SKU | Model # | Pricing |
| --- | --- | --- | --- | --- | --- |
| 804273039862 | 25 | | 3002607-703 | 5E4R | |