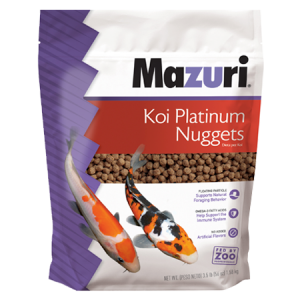 Mazuri Koi Platinum Nuggets are a highly palatable floating koi fish food designed to help keep your koi healthy and beautiful. Suitable for koi six inches or larger, these koi fish food pellets not only provide optimum nutrition for your fish but also contain spirulina algae and other nutrients for vibrant coloration.. Plus, floating Mazuri® koi food encourages fish to come to the surface of your pond, tank or aquarium so they can be observed feeding.
Crude protein not less than
Crude fat not less than
Crude fiber not more than
Moisture not more than
Ash not more than
Calcium not less than
Calcium not more than
Phosphorus not less than
Vitamin E not less than
Ascorbic Acid not less than
Omega-3 fatty acids not less than
36.0%
3.0%
6.0%
12.0%
9.0%
1.0%
1.5%
0.90%
50 IU/kg
1,000 mg/kg
0.90%
Feed to koi and very large goldfish over 6 inches in length.
Feed 1 – 3 times per day and only as much as fish will readily consume in 5 minutes.

Do not overfeed, as excess feed will decompose in the water resulting in poor water quality, which may be harmful to the health of your fish.

For the same nutrition in different particle size, consider:

Mazuri® Koi Platinum Bits – suitable for fish up to six inches.
Mazuri® Koi Platinum Ogata – suitable for all koi over twelve inches long.

When feeding multiple sizes of fish, choose a particle size the smaller fish will be able to eat.
It is always good practice to wash hands thoroughly after feeding and/or handling pets. This
diet is not intended for human consumption.
Storage Conditions
For best results, ensure polybag seal is fully closed during storage, or store contents of open paper sack in container with sealing lid. Store in a cool (75°F or colder), dry (approximately 50% RH) location. Freezing will not harm the diet and may extend freshness. Adhere to the "Best if used by" date or use within 1 year of bag manufacturing.
| UPC | Weight(lbs) | Weight(oz) | SKU | Model # | Pricing |
| --- | --- | --- | --- | --- | --- |
| 727613004804 | 3.5 | | 0060832 | 5EE4 | |
| 727613060077 | 20 | | 0001491 | 5M80 | |