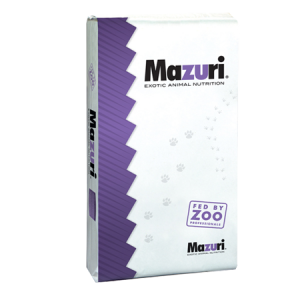 Mazuri® Kangaroo/Wallaby Diet is specifically designed for kangaroos and wallabies of all ages containing high levels of vitamin E and selenium help to prevent white muscle disease. This kangaroo and wallaby food promotes growth and reproduction.
Formulated for Kangaroos and Wallabies – Meets nutritional requirements.
High levels of vitamin E and selenium – Helps prevent white muscle disease.
Nutritionally balances available pasture and hay – Promotes growth and reproduction.
Particle form – Easy to feed, minimizes waste.
Product Form:   Extruded particle:  3/8″ diameter x 3/16″ length
Crude protein not less than
Crude fat not less than
Crude fiber not more than
Moisture not more than
Ash not more than
Selenium not less than
Selenium not more than
15.0%
5.0%
10.0%
12.0%
8.0%
0.60 ppm
0.72 ppm
Feed free-choice to Kangaroos and Wallabies of all ages, starting with Joeys out of the pouch around 8 1/2 months.

Adult animals can be expected to consume between 1% and 2% of their body weight depending on their physiological state and level of activity.
Bottle-feeding Joey's: introduce slowly into the Joey's diet once solid foods are being consumed.

Provide pasture or high quality hay – preferably grass hay – free choice.

Alfalfa hay is not recommended as the calcium:phosphorus balance is not appropriate.
Caution – Follow label directions: Feeding added selenium at levels in excess of 0.3 ppm in the total diet is prohibited.
Storage Conditions
For best results, store contents of open paper sack in container with sealing lid. Store in a cool (75°F or colder), dry (approximately 50% RH) location. Freezing will not harm the diet and may extend freshness. Use within 1 year of bag manufacturing.
| UPC | Weight(lbs) | Weight(oz) | SKU | Model # | Pricing |
| --- | --- | --- | --- | --- | --- |
| 727613602819 | 40 | | 0001500 | 5Z88 | |