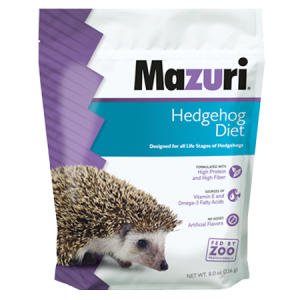 Serve your hedgehog food like they'd eat in the wild. Mazuri Hedgehog Food simulates the typical high-protein, high-fiber diet your hedgehog craves. Feel free to replace gut-loading insects in your hedgehog's diet with this highly wholesome hedgehog food.
Crude protein not less than
Crude fat not less than
Crude fiber not less than
Crude fiber not more than
Moisture not more than
Ash not more than
Vitamin E not less than
Omega-3 Fatty Acids not less than
28.0%
11.0%
11.0%
15.0%
12.0%
8.0%
300 IU/kg
0.25%
The Hedgehog Diet should make up at least 50% of your animal's intake. Hedgehogs will
consume 1-3% of bodyweight per day. Food intake will vary due to growth rate, activity,
environmental temperature, and life stage.
For example:
For a 10 oz (300 g) hedgehog: 2-3 teaspoons (4-6 g)
For a 1.5 lb (700 g) hedgehog: 1-3 tablespoons (7-21 g)
Always feed along with fresh clean water.
Soaking Hedgehog Diet in water may help transition animals that are used to soft/moist diets.
After 1-2 weeks on a soaked diet, slowly transition to using less water and eventually offer a dry diet.
Storage Conditions
For best results, tightly affix lid on canister after removal of desired dosage or store contents of open bag in container with sealing lid. Store in a cool (75°F or colder), dry (approximately 50% RH) location. Freezing will not harm the diet and may extend freshness. Adhere to the "Best if used by" date or use within 1 year of bag manufacturing.
| UPC | Weight(lbs) | Weight(oz) | SKU | Model # | Pricing |
| --- | --- | --- | --- | --- | --- |
| 804273046372 | | 8 | 3003417-745 | 5M3D | |