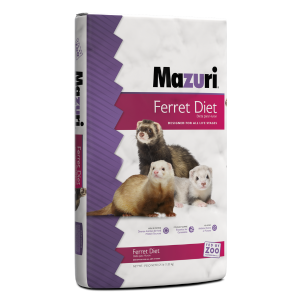 Mazuri Ferret Diet offers proper ferret nutrition in an extruded form for all life stages of ferrets. This highly palatable, nutrient-dense dry ferret food contains multiple animal derived proteins appropriate for carnivores. Mazuri ferret food contains high quality ingredients for high digestibility. No ferret supplements are required with this ferret food.
Multiple animal derived proteins appropriate for carnivores.
Highly palatable, extruded diet – Easy to digest.
Natural Antioxidants – Mixed tocopherols and rosemary extract.
Contains sources of Omega-3 Fatty Acids.
Added taurine – An essential amino acid for carnivores.
Contains probiotics – To support GI tract health.
Includes Yucca shidigera extract – Shown to reduce aerosol ammonia in animal facilities.*
No added artificial colors or artificial flavors.
*Relevant research information:
Headon, D.R. and K.A. Dawson, 1990. Yucca extract controls atmospheric ammonia levels. Feedstuffs. 62:15-16.Product Form:  Round extruded particle:  5/16″ to 7/16″ length x 5/32″ diameter
Product Size:   25 lb. net weight paper sack.
| | |
| --- | --- |
| Crude Protein | 38.00% min |
| Crude Fat | 20.00% min |
| Crude Fiber | 4.00% max |
| Moisture | 12.00% max |
| Ash | 8.00% max |
| Vitamin E | 225 IU/kg min |
| Omega-3 Fatty | 0.50% min |
| Taurine | 0.25% min |
| Total Microorganisms | 270,000 CFU/g |
(Lactobacillus acidophilus, Lactobacillus casei, Bifidobacterium thermophilum)*
*Contains a source of live (viable) naturally occurring microorganisms.
Feed free choice to young or adult .
Adult ferrets weighing 2 – 4 lbs will typically eat 6% of their body weight per day (1/2 – 3/4 cup) or up to 7% of their body weight for breeding or lactating females (3/4 –1 cup).
Keep fresh, clean water available at all times.
Thoroughly wash feed and water bowls on a regular basis. It is always good practice to wash hands thoroughly after feeding and/or handling pets. This diet is not for human consumption.
Storage Conditions
For best results, ensure bag is fully closed during storage, or store contents of open paper sack in container with sealing lid. Store in a cool (75ºF or colder), dry (approximately 50% RH) location. Freezing will not harm the diet and may extend freshness. Adhere to the "Best if used by" date or use within 1 year of bag manufacturing.
| UPC | Weight(lbs) | Weight(oz) | SKU | Model # | Pricing |
| --- | --- | --- | --- | --- | --- |
| 727613060145 | 25 | | 0001473 | 5M08 | |
| 727613004743 | 5 | | 0060831 | 5M08 | |