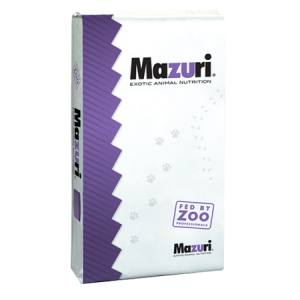 Mazuri Exotic Gamebird Maintenance is a complete game bird feed designed to meet the nutritional needs of immature or non-breeding guinea fowl, ornamental pheasants and other game birds with similar feeding patterns. Mazuri Gamebird diets are designed for optimal growth rates, chick success, quality feathering, health and longevity.
Balanced levels of essential nutrients – Provides nutritional balance to keep non-breeding birds in good condition.
Suitable for ground or trough feeding – Adaptable to the established feeding routines.
Extruded particles – Uniform size, easy to feed, and minimizes fines and waste.
Product Form:  Extruded particle:  3/16″ diameter x 3/16″ length
Crude protein not less than
Crude fat not less than
Crude fiber not more than
Ash not more than
Calcium not less than
Calcium not more than
Phosphorous not less than
Salt not less than
Salt not more than
12.0%
2.5%
10%
7.0%
0.60%
1.2%
0.60%
0.05%
0.55%
Feed free-choice to non-breeding adult birds.
Always provide animal with plenty of fresh, clean water.
Storage Conditions
For best results, store contents of open bag in container with sealing lids.  Store in a cool (75°F or colder), dry (approximately 50% RH) location.  Use within 1 year of bag manufacturing.
| UPC | Weight(lbs) | Weight(oz) | SKU | Model # | Pricing |
| --- | --- | --- | --- | --- | --- |
| 727613002824 | 40 | | 0026049 | 5643 | |