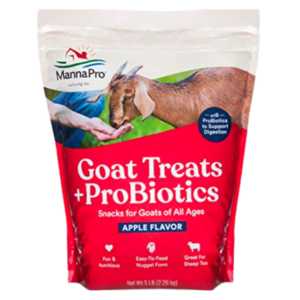 Snacks for Goats of All Ages
From pet goats to meat and dairy goats, their unique personalities make them some of the most charming animals on the farm. Why not reward yours with Manna Pro® Goat Treats? These wonderful and nutritious apple-flavored treats are the perfect way to show your goats how much you appreciate them.
Apple flavored
A fun, nutritious snack for your goats
Formulated with probiotics to support digestion
Easy-to-feed nugget form
Great for sheep, too
Crude Protein
Min
14.00%
(Including No More Than 2.0% from Non-Protein Nitrogen)
Crude Fat
Min
1.50%
Crude Fiber
Max
18.00%
Acid Detergent Fiber
Max
23.00%
Calcium
Min
1.00%
Calcium
Max
1.50%
Phosphorus
Min
0.50%
Salt
Min
1.00%
Salt
Max
1.50%
Sodium
Min
0.50%
Sodium
Max
1.00%
Copper
Min
None Added
Selenium
Min
0.30 ppm
Vitamin A
Min
5,000 IU/lb
Vitamin E
Min
10 IU/lb
Total Microorganisms
Min
2.25×108 CFU/lb
Feed Manna Pro Goat Treats a few at a time throughout the day, as a treat. This treat can also be fed to sheep. Do not over feed or offer free choice.
| UPC | Weight(lbs) | Weight(oz) | SKU | Model # | Pricing |
| --- | --- | --- | --- | --- | --- |
| 95668000899 | 30 | | | | |