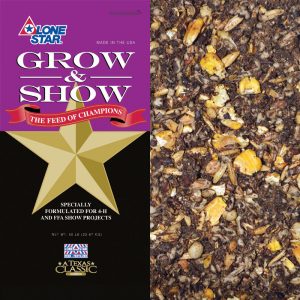 A high energy, corn, cottonseed hull, and oat based sweet feed formulated to provide an optimum finish to show calves.
| | |
| --- | --- |
| Crude Protein | 12.00% min |
| Crude Fat | 5.00% min |
| Crude Fiber | 13.00% max |
| Calcium (Ca) | 0.60% min |
| Calcium (Ca) | 1.10% max |
| Phosphorus (P) | 0.45% min |
| Salt (NaCl) | 0.25% min |
| Salt (NaCl) | 0.75% max |
| Potassium (K) | 0.80% min |
| Vitamin A | 5,000 IU/LB min |
Feed continuously at the rate of 7.4 lb/head/day to 26.7 lb/head/day to show calves beginning approximately 90 to 140 days before show date. This will provide a minimum of 100 mg/head/day of Lasalocid and a maximum of 360 mg/head/day. The length of finishing period depends on the the breed of calf, frame size, and degree of finish desired. As a general rule, begin feeding Fitter's Choice Calf Finisher to large frame calves at approximately 700 pound of body weight. Early maturing, small framed calves should be fed this ration beginning at approximately 800 pounds of body weight. Provide a source of fresh, clean water at all times throughout the feeding program.
WARNING: A withdrawal period has not been established for this product in pre-ruminating cattle. Do not use in calves to be processed for veal.
CAUTION: The safety of Lasalocid in unapproved species has not been established. Do not allow horses or other equines access to feeds containing Lasalocid as ingestion may be fatal. Feed should be stored in a well-ventilated, dry area protected from rodents and insects. Feed is perishable. Do not feed moldy or insect-infested feed to animals as it may cause illness or death.
| UPC | Weight(lbs) | Weight(oz) | SKU | Model # | Pricing |
| --- | --- | --- | --- | --- | --- |
| | 50 | | | 0795 | |