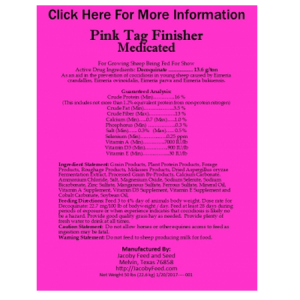 For Growing Sheep Being Fed For Show
Higher energy blended ration with added barley to increase fleshing ability in lambs and goats. Pink Tag's variety of protein sources provides a wider array of amino acid availability for optimum rumen function and performance. Suggested feeding from early fall to finish. Regular exercise may be required to control weight and over fleshing.
Crude Protein (Min)………….16 %
(This includes not more than 1.2% equivalent protein from non-protein nitrogen)
Crude Fat (Min)………..……..3.5 %
Crude Fiber (Max)…………….13 %
Calcium (Min)…..0.7 (Max)…..1.0 %
Phosphorus (Min) ……………..0.3 %
Salt (Min)…… 0.3%   (Max)….. 0.5 %
Selenium (Min)……………..0.25 ppm
Vitamin A (Min)………….7000 IU/lb
Vitamin D3 (Min)…………..900 IU/lb
Vitamin E (Min)……..………30 IU/lb
Feeding Directions: Feed 3 to 4% day of animals body weight. Dose rate for Decoquinate: 22.7 mg/100 lb of bodyweight / day. Feed at least 28 days during periods of exposure or when experience indicates that coccidiosis is likely no be a hazard. Provide good quality grass hay as needed.  Provide plenty of fresh water to drink at all times.
Caution Statement:  Do not allow horses or other equines access to feed as ingestion may be fatal.
Warning Statement: Do not feed to sheep producing milk for food.
| UPC | Weight(lbs) | Weight(oz) | SKU | Model # | Pricing |
| --- | --- | --- | --- | --- | --- |
| | | | | | |