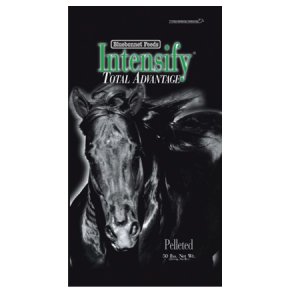 Bluebonnet Intensify Total Advantage Pellets is a complete total diet feed that may be used for horses in all life stages. This feed may be fed without roughage or with roughage to help extend the hay supply. This high fiber feed contains all essential nutrients needed while maintaining low levels of sugar, starch, and non-structural carbohydrates. This Bluebonnet product contains "Intensify Technology" which combines cutting edge nutrition with high quality ingredients and specialized milling processes to create one of the most advanced equine feeds on the market.
Crude Protein Min 12.00%
Potassium Min 0.80%
Lysine Min 0.60%
Salt Min 0.30%
Methionine Min 0.20%
Salt Max 0.80%
Cystine Min 0.15%
Copper Min 50 ppm
Threonine Min 0.44%
Zinc Min 120 ppm
Tryptophan Min 0.15%
Manganese Min 120 ppm
Crude Fat Min 10.00%
Cobalt Min 5 ppm
Crude Fiber Max 20.00%
Selenium Min 0.45 ppm
ADF Max 28.00%
Vitamin A Min 3,000 IU/lb
NDF Max 39.00%
Vitamin D Min 400 IU/lb
Starch Max 7.00%
Vitamin E Min 86 IU/lb
Sugar Max 4.00%
Vitamin B12 Min 15 mcg/lb
Calcium Min 1.10%
Riboflavin (B2) Min 2.5 mg/lb
Calcium Max 1.60%
Thiamine (B1) Min 6.5 mg/lb
Phosphorus Min 0.60%
Biotin Min 0.75 mg/lb
Magnesium Min 0.30%
Ascorbic Acid (Vitamin C)
All Horses: Feed quality hay at a minimum of 1.0% to 2.0% of horse's body weight. Adult Maintenance: Feed 0.6 lb per 100 lb body weight. Performance Light Activity: Feed 0.7 lb to 0.8 lb per 100 lb body weight.
Moderate Activity: Feed 0.8 lb to 1.0 lb per 100 lb body weight.
Intense Activity: Feed 1.0 lb to 1.25 lb per 100 lb body weight. Breeding/Growing Pregnant Mares: Feed 0.7 to 0.8 lb per 100 lb body weight.
Lactating Mares: Feed 1 to 1.25 lb per 100 lb body weight.
Growing Horses: Feed 0.8 to 1 lb per 100 lb body weight.
Adjust feeding rates based on desired body condition and forage quality.
| UPC | Weight(lbs) | Weight(oz) | SKU | Model # | Pricing |
| --- | --- | --- | --- | --- | --- |
| | 50 | | | | |