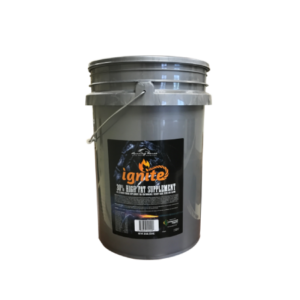 An extruded supplement for performance, weight gain, shine, and bloom.
14.0%Crude Protein (min)
30.0%Crude Fat (min)
9.0%Crude Fiber (max)
1.8%Calcium (Ca) (min)
2.3%Calcium (Ca) (max)
0.6%Phosphorus (P) (min)
.25%Salt (NaCl) (min)
0.75%Salt (NaCl) (max)
0.10%Sodium (Na) (min)
0.60%Sodium (Na) (max)
65 ppmCopper (Cu) (min)
1.2 ppmSelenium (Se) (min)
250 ppmZinc (Zn) (min)
16,000 IU/lbVitamin A (min)
350 IU/lbVitamin E (min)
FEEDING DIRECTIONS: Feed Running Horse Ignite 30% High Fat Supplement at a rate of 1-2 pounds per day to achieve desired results. Feed 60 days prior to competition, show or breeding season. This supplement is designed to be fed with adequate forage.
CAUTION: Contains copper. Do not feed to sheep. Feeding selenium at levels in excess of 0.3 ppm in the total diet is prohibited. Use only as directed.
| UPC | Weight(lbs) | Weight(oz) | SKU | Model # | Pricing |
| --- | --- | --- | --- | --- | --- |
| 703948500617 | 50 | | | | |