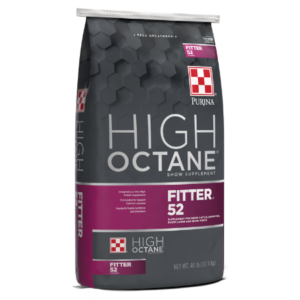 High Octane Fitter 52 Supplement is formulated as a very high protein supplement to affect leanness. Designed to quickly promote muscle synthesis and definition, it's proprietary ingredient blend and can be fed to all show livestock species.
Crude Protein MIN 52.00 %
Lysine MIN 4.00 %
Crude Fat MIN 2.00 %
Crude Fiber MAX 5.00 %
Calcium (Ca)MIN 1.05 %
Calcium (Ca)MAX 1.55 %
Phosphorus (P)MIN 0.60 %
Potassium MIN 0.80 %
Salt (NaCl) MIN 0.01 %
Salt (NaCl) MAX 0.51 %
Feeding Directions
High Octane® Fitter 52 is a high protein show supplement for pigs, lambs, goats and cattle fed for exhibition. The amount of feed per day depends upon the species, age, and weight of the animal (lighter or younger animals need less per day). Feed according to the following: Pigs 4 to 16 oz per day; Lambs 4 to 8 oz per day; Goats 4 to 8 oz per day; Cattle: Steers 8 to 16 oz per day; Heifers 16 to 24 oz per day.
Caution
Store in a dry, well-ventilated area protected from rodents and insects. Do not feed moldy or insect-infested feed to animals as it may cause illness, performance loss or death. This product was made in a feed manufacturing facility that does not handle or store products containing animal proteins prohibited in ruminant feed. Use only as directed.
Winning Matrix
Efficient production requires a thorough understanding and application of the fundamental principles of good husbandry and sanitation. The Purina Winning Philosophy program will help you step into the spotlight.
| UPC | Weight(lbs) | Weight(oz) | SKU | Model # | Pricing |
| --- | --- | --- | --- | --- | --- |
| 804273057125 | 40 | | | 46180 | |