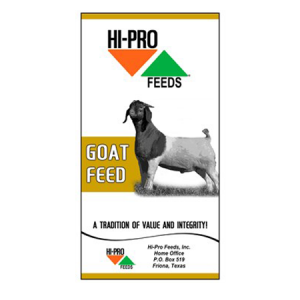 Primero Red Show Goat Feed is a powerful grower for show goats that contains Deccox® to prevent coccidiosis. Provides sufficient protein and amino acids for kid goats to grow muscle tissue at a time when they are most efficient at building muscle mass.
Available in 50-lb bag. 
Crude Protein (min) (This includes not more than 1.2% equivalent protein from non-protein nitrogen.)
16.0%
Salt (min)
1.0%
Crude Fat (min)
1.8%
Salt (max)
1.5%
Crude Fiber (max)
21.0%
Copper (min)
18.0 ppm
Calcium (min)
1.0%
Copper (max)
35.0 ppm
Calcium (max)
1.5%
Selenium (min)
0.2 ppm
Phosphorus (min)
0.3
Vitamin A (min)
4,000 IU/lb.
Active Drug Ingredient:
Decoquinate
27.2 grams per ton
Feed at the rate of 1.67 pounds per 100 pounds of body weight to provide 22.7 milligrams per 100 pounds of body weight. Feed for at least 28 days during periods of coccidiosis exposure or when experience indicates that coccidiosis is likely to be a hazard. Coccidiostats are not indicated in use in adult animals due to continuous previous exposure.
| UPC | Weight(lbs) | Weight(oz) | SKU | Model # | Pricing |
| --- | --- | --- | --- | --- | --- |
| | 50 | | | | |