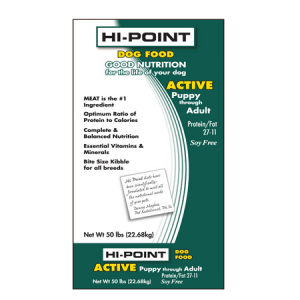 Hi-Point Active Puppy Through Adult Dry Dog Food has meat as the #1 ingredient with an optimum ratio of protein to calories. This is a bit size kibble for all breeds.
Crude Protein, not less than 27.0 %
Crude Fat, not less than 11.0 %
Crude Fiber, not more than 5.0 %
Moisture, not more than 12.0 %
Calcium, not less than 2.0 %
Phosphorus, not less than 1.0 %
Vitamin D3 , not less than 500 IU/Kg
Hi-Point Active Dog Food should be offered to puppies as early as they will nibble at solid food (usually around three weeks of age). Use at first a moistened gruel-like mixture containing two parts food to one part warm milk or water. Gradually reduce the amount of liquid in the mix until feeding dry food.
Puppies and growing dogs should be fed all they will consume (approximately two times the amount of food indicated for their weight on the chart) in two or three feedings per day until they are about six months old. Their food allowance in relation to weight should then be gradually reduced. Maintain puppies in lean muscular condition until they are mature through proper food allowance and exercise.
| UPC | Weight(lbs) | Weight(oz) | SKU | Model # | Pricing |
| --- | --- | --- | --- | --- | --- |
| | 50 | | | | |