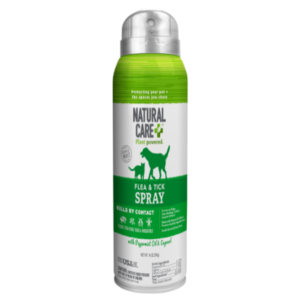 Take control of flea and tick problems without harsh chemicals. Certified Natural Peppermint and Eugenol plant extracts kill pests on contact.
Kills fleas, flea eggs, and ticks on contact—and repels mosquitoes. Just apply it wherever pests are found, inside and out.
Contains no harsh chemicals; the formula uses nature's ingredients, such as peppermint oil and clove extract.
Doesn't stain—It's safe to use on pet bedding, pillows, blankets, carpets, rugs, upholstery, countertops and much more.
Plant-based formula is safe to use around your family and on your dogs and cats, 12 weeks and older, as directed.
Safe to use on dogs and cats 12 weeks or older, and safe to use around the entire family.
Made in the USA.
Directions for Use
READ ENTIRE LABEL BEFORE EACH USE AND USE ONLY IN ACCORDANCE WITH LABEL INSTRUCTIONS.
For Use on Dogs & Cats Over 12 Weeks Old: Shake well. Apply indoors or outdoors in a well-ventilated area. Lightly spray pet's entire coat until damp, but not dripping. Do not spray in the face, eyes, nose, mouth or genitals. Cover the entire coat including the legs, tail and stomach. Massage into the coat until the product reaches the skin. Let coat dry completely before allowing pets to groom themselves. Repeat if needed allowing 2-4 hours between applications, not exceeding twice in 24 hours. In order to help reduce the occurrence of fleas and ticks, this product is best used year-round.
For Pet Bedding, Pillows, Blankets, Carpet & Rugs or Outdoor Surfaces Including Patio Furniture & Yard: This product is designed to be non-staining; however, always apply a small amount to an inconspicuous area to test for colorfastness. Shake well. Spray the surface uniformly with a light mist until moist. Avoid soaking. A fine mist is all that is necessary to be effective. Allow product to dry before allowing pets to re-enter the area. Not recommended for use on fine furniture.
For added protection against fleas and ticks in your home, try Natural Care Flea & Tick Carpet Powder.
| UPC | Weight(lbs) | Weight(oz) | SKU | Model # | Pricing |
| --- | --- | --- | --- | --- | --- |
| 10279401125 | | 14 | | | |