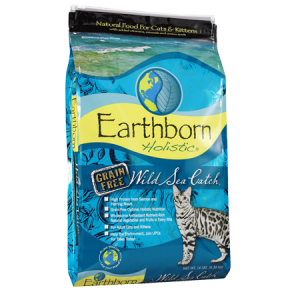 Earthborn Holistic Wild Sea Catch Grain-Free Natural Dry Cat & Kitten Food provides plenty of protein to fuel all those adventures and growth spurts, with highly-digestible salmon and herring meals as the top ingredients. Every crunchy bite is loaded with veggies and fruits like blueberries, spinach, apples, and cranberries, plus all the nutrients your pal needs to look and feel his best, like vitamins, omegas, taurine, and probiotics, not to mention the flavor he'll find irresistible! With no grains, gluten or anything artificial, kitties with sensitivities can dive into the bowl, too.
Adult and kitten formula is loaded with protein from easily-digestible salmon and herring meals to support growing muscles.
Guaranteed levels of antioxidants plus nutrient-rich fruits and veggies to support a healthy immune system, and taurine for heart and vision health.
Contains omega-3 and 6 fatty acids to nourish skin and fur, and natural fibers to support gastrointestinal health.
Zero grains or gluten, so it's also great for kitties with sensitivities or food allergies, and contains minerals to support strong bones for all that leaping.
Made in the USA in BPA-free packaging from clean natural gas so it's environmentally-friendly.
| | |
| --- | --- |
| CRUDE PROTEIN | 40.0% min |
| CRUDE FAT | 18.0% min |
| CRUDE FIBER | 3.0% max |
| MOISTURE | 10.0% max |
| DHA | 0.05% min |
| CALCIUM | 1.2% min |
| PHOSPHORUS | 1.0% min |
| MAGNESIUM | 0.1% max |
| VITAMIN E | 300 IU/kg min |
| TAURINE | 0.2% min |
| ASCORBIC ACID (VITAMIN C) | 100 mg/kg min |
| OMEGA-6 FATTY ACIDS | 3.45% min |
| OMEGA-3 FATTY ACIDS | 2.0% min |
Adjust amounts accordingly over time. Please remember these portions are averages and will vary according to age, activity, size and temperament of your cat. When introducing Wild Sea Catch™ to your cat's diet, mix increasing amounts of Wild Sea Catch™ with decreasing amounts of the current food over a 1 – week period.
During gestation and lactation, feed 2 – 3 times as much food as recommended in the Daily Feeding Guide for the weight of your Adult cat. Kittens start to eat solid foods at 3 – 4 weeks of age and should have free access to moistened food from this time until weaning (6 – 8 weeks). Moistened food should be 1 part warm water with 3 parts Wild Sea Catch™. You may keep Wild Sea Catch™ before your kitten at all times; most kittens will satisfy their nutritional needs as their appetite dictates. Have clean, fresh water available at all times.
Transition Instructions
On days 1 & 2 of the change, you should have plenty of your pet's old food left. Fill the bowl with 3 quarters of the old food, and one quarter of Earthborn Holistic®.
On days 3 & 4, add in another quarter, so you have half old food, half Earthborn Holistic®.
On days 5 & 6, mix one quarter old food and 3 quarters Earthborn Holistic® Food for Pets.
In only 7 days, your pet will be on an all-new diet of Earthborn Holistic® Food for Pets!
| UPC | Weight(lbs) | Weight(oz) | SKU | Model # | Pricing |
| --- | --- | --- | --- | --- | --- |
| 348467183004 | 5 | | | | |
| 348467183172 | 14 | | | | |