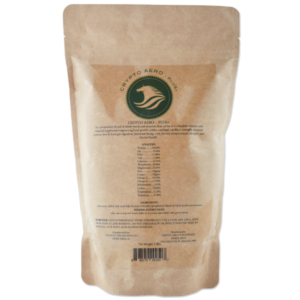 Crypto Aero Plus+ is a complete, whole food, vitamin and mineral supplement supporting hoof growth,cartilage, tendon, joint, lung, capillary strength, immune system, fore & hind gut digestion and intestinal lining, coat, kidney, and thyroid health. Each and every organ and tissue within the body is addressed through specific whole food additions, making it truly a complete whole food supplement. 100% Human Grade. Non-GMO.
Crypto Aero Plus+ was developed to help horses overcome especially stressful situations as well as to help support the aging horse. Crypto Aero Plus+ is best fed with Crypto Aero Wholefood Horse Feed or a diet such as hay, oats, or flax or any combination of such.  You may give up to twice the recommended amount to increase nutrient supplementation during times of illness or travel. Available in 2.5lbs (one month supply) and 5lbs bags (two months supply).
Protein 18.00%
Fat 9.50%
Fiber 11.00%
Ash 7.00%
Calcium 0.70%
Phosphorus 0.40%
Omega 6 Fatty Acids 20%
Omega 3 Fatty Acids 50%
Amino Acid Profile:
Methionine 0.4
Lysine 0.90%
Tryptophan 0.20%
Threonine 0.70%
Give one scoop two times daily or 2 scoops once daily with grain ration.
| UPC | Weight(lbs) | Weight(oz) | SKU | Model # | Pricing |
| --- | --- | --- | --- | --- | --- |
| 846336000587 | 2.5 | | | | |
| | 5 | | | | |