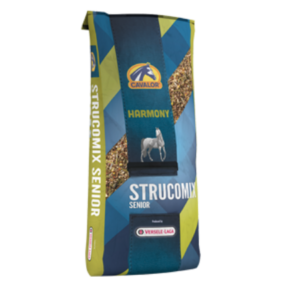 HIGH FIBER FEED FOR THE SENIOR HORSE – The efficiency of the digestive system as well as the quality of a horse's teeth decrease as horses age. As a result, senior horses need special nutritional attention. Cavalor Strucomix Senior is specially formulated with puffed and extruded grains for easy and efficient digestion, high-quality proteins (easily digestible and faster conversion into energy) as well as a high level of vitamins, minerals and trace elements.
Cavalor Strucomix Senior is the feed that contains everything your horses need for a healthy and active life. Senior has a higher calorie content than Original and can be beneficial for horses with increased calorie needs.
Quantity per 220 lbs. of live body weight in addition to at least 16.5 lbs. of forage [hay]. At rest/maintenance: max 1.1 lbs; light exertion: max 1.3 lbs.
| UPC | Weight(lbs) | Weight(oz) | SKU | Model # | Pricing |
| --- | --- | --- | --- | --- | --- |
| 5410340727218 | 44 | | | | |