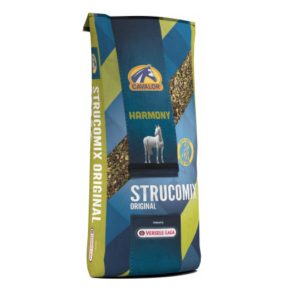 THE HIGH FIBER HERBAL MIXTURE – The equine digestive system is designed for daily grazing; as it is made up of a small stomach and a well-developed large intestine. Today's horses are usually fed highly concentrated feeds, relatively little hay and almost no herbs which is quite the opposite from what their digestive systems are designed to consume in nature.
Cavalor Strucomix Original is a complete feed containing all the natural raw materials a horse could have originally found in the wild while grazing. It can be used as a replacement for roughage, or as a concentrate. The addition of herbs also provides healthy benefits for the horse's breathing, especially during hot summer months.
Quantity per 220 lbs. of live body weight in addition to at least 16.5 lbs. of forage [hay]. Maintenance: max 1.1 lbs; light work: max 1.3 lbs; medium work: max1.5 lbs; as a complete feed/maintenance: max 2.7 lbs; light work: max 2.8 lbs; medium work: max 3.3 lbs; for supplementary feeding: max 0.75 lbs.
| UPC | Weight(lbs) | Weight(oz) | SKU | Model # | Pricing |
| --- | --- | --- | --- | --- | --- |
| 5410340725177 | 33 | | | | |