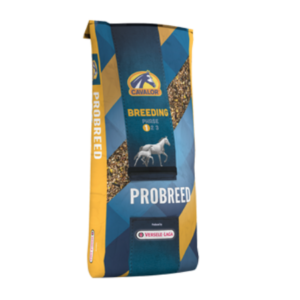 Cavalor Probreed is designed for the last months of gestation and during lactation.
ProBreed provides the optimal quantity, quality and ratio of important macro and micronutrients including calcium, phosphorous, copper, zinc and manganese. With young horses it is essential that their growth curve is steady – not too fast, not too slow. During growth, bone and cartilage are vulnerable as they are in process of making new tissue (weaker) and remodeling (e.g. growth plates closing etc) and both to much and to little nutrients can impact proper develop­ment.
Always give Probreed in addition to sufficient hay and straw. Daily amount per animal: gestation – 0.8 to 1.2 kg per 100 kg live body weight, lactation (feed for the mare) – 1.4 to 1.8 kg per 100 kg live body weight, foals (between the 6th and the 12th month) – 2 to 3 kg.
| UPC | Weight(lbs) | Weight(oz) | SKU | Model # | Pricing |
| --- | --- | --- | --- | --- | --- |
| | 44 | | | | |