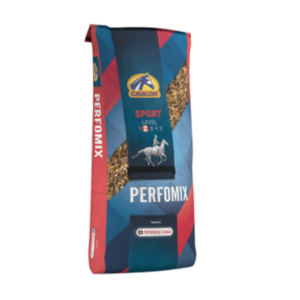 THE DAILY ENERGY DOSE FOR PERFORMANCE – Cavalor Perfomix is a well-balanced feed suited for active competition horses intended to be fed in addition to the daily ration of hay and water. This feed contains all the nutritional elements needed by active recreational and competition horses engaging in average to intensive work.
It includes a combination of key elements including copper, zinc and manganese to provide ultimate support for joints, bones and tendons. Made with top quality proteins, fats and easily digestible cellulose. Perfomix is the preferred choice for horses needing additional energy beyond the energy available in Action Mix.
Estimated quantity per 220 lbs of live body weight in addition to at least 16 lbs of roughage [hay]. Light exertion: max 1 lbs; medium exertion: max 1.5 lbs; heavy exertion: max 2 lbs.
| UPC | Weight(lbs) | Weight(oz) | SKU | Model # | Pricing |
| --- | --- | --- | --- | --- | --- |
| 5410340726884 | 44 | | | | |