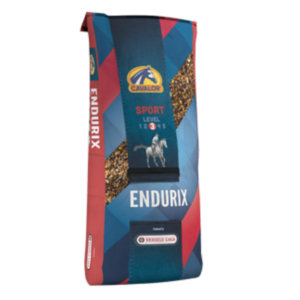 FOR HORSES NEEDING LASTING ENERGY – Cavalor Endurix is ideal for competition horses performing long, aerobic exercises like dressage and endurance training. These horses must deliver continuous efforts, so not only do they need energy from grains, they also need long-term energy sources from good fats like vegetable oils and essential fatty acids. To be effective, composition of the fats is just as important as the fat content.
Endurix contains a balanced blend of vitamin E and selenium that strengthens the natural resistance and reduces the impact of oxidative stress.
Quantity per 220 lbs. of body weight in addition to at least 16.5 lbs. of forage [hay]. Medium exertion: max 1.5 lbs. Very strenuous exercise: max 1.7 lbs. For additional body condition, feed 2-3 lbs. per 220 lbs. of body weight.
| UPC | Weight(lbs) | Weight(oz) | SKU | Model # | Pricing |
| --- | --- | --- | --- | --- | --- |
| 5053368514653 | 44 | | | | |