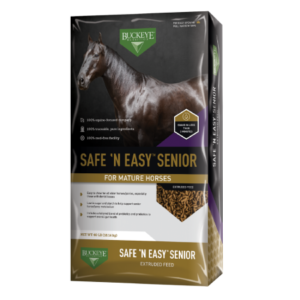 Buckeye Safe 'N Easy Senior Extruded Feed is an easy to chew horse feed for all older horses/ponies, especially those with dental issues, low in sugar and starch to help support senior horse/pony metabolism, and includes a tailored blend of prebiotics and probiotics to support overall gut health.
Crude Protein, Min. 14.00%
Lysine, Min. 0.70%
Methionine, Min. 0.20%
Threonine, Min. 0.50%
Crude Fat, Min. 10.00%
Crude Fiber, Max. 20.00%
Acid Detergent Fiber, Max. 25.00%
Neutral Detergent Fiber, Max. 40.00%
*NSC, Max. 14.50%
Calcium, Min. 0.80%
Calcium, Max. 1.30%
Phosphorus, Min. 0.50%
Potassium, Min. 0.90%
Copper, Min. 50 ppm
Zinc, Min. 170 ppm
Selenium, Min. 0.60 ppm
Vitamin A, Min. 4,200 IU/lb
Vitamin D, Min. 420 IU/lb
Vitamin E, Min. 150 IU/lb
Omega-6 Fatty Acids, Min. 5.00%
Omega-3 Fatty Acids, Min. 0.90%
*Not recognized by AAFCO as an essential nutrient
Feeding Directions:
Feed according to the amounts shown below, which are based on the weight of your horse/pony and level of work. The following chart references the amount of SAFE 'N EASY™ SENIOR to feed in lb per day.
Body Weight (lb) Hay (lb) Idle Light Work Moderate Work
500 7-10 1.5-2.0 2.0-2.5 2.5-3.0
880 11-16 2.0-3.5 3.5-4.0 4.0-4.5
1,100 16-22 3.0-4.0 4.0-5.0 5.0-6.0
1,320 20-27 4.0-5.0 5.0-6.0 6.0-7.0
SAFE 'N EASY™ SENIOR is designed to be fed with good quality forage, pasture or hay. If dental issues prevent older horses/ponies from being able to chew and digest long-stemmed hay properly, provide a forage alternative such as WRANGLER at a minimum of 1.5% of body weight per day to support proper digestive health.
Provide clean, fresh water at all times
If feeding less than recommended amount per day, add 1 lb of GRO 'N WIN™, GRO 'N WIN™ Alfa, or SENIOR BALANCER by BUCKEYE Nutrition for every 3 lb of SAFE 'N EASY™ SENIOR underfed.
| UPC | Weight(lbs) | Weight(oz) | SKU | Model # | Pricing |
| --- | --- | --- | --- | --- | --- |
| 7445045985982 | 50 | | | | |