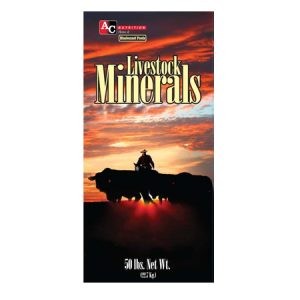 Bluebonnet SWS Strike Force 12-8 Mineral contains Southwest Superior micronutrition, "Water Shed" technology: "Helps Keep Mineral Dry". Protects mineral from weather and helps resist caking, leaching & hardening in the mineral feeder, Contains prebiotics from yeast culture to help animals digest forages more thoroughly and maintain a healthy digestive system, and provides the full necessary spectrum of modern supplementation including calcium, phosphorous, salt, magnesium, potassium, zinc, manganese, copper, iodine, selenium and vitamins A, D and E.
Calcium Min 12.00 %
Manganese Min 6,000 ppm
Calcium Max 14.00 %
Copper Min 1,750 ppm
Phosphorus Min 8.00 %
Cobalt Min 35 ppm
Salt Min 14.00 %
Iodine Min 300 ppm
Salt Max 16.00 %
Selenium Min 25 ppm
Magnesium Min 1.50 %
Vitamin A Min 270,000 IU/lb
Potassium Min 0.75 %
Vitamin D Min 27,000 IU/lb
Zinc Min 6,150 ppm
Vitamin E Min 540 IU/lb
Feed free choice, preferably in mineral feeders. Daily consumption by cattle should range from 2 to 4 ozs per head daily depending on mineral requirements pasture and weather conditions. Goats and Deer should average 0.5 to 1 ozs daily. If overconsumption is occurring, then more salt may be added to the mineral or offered free choice separately. Under normal conditions, this product should be the only source of salt offered when feeding this mineral. Do not offer any other mineral supplement when feeding this product.
CAUTION: DO NOT feed to sheep.
| UPC | Weight(lbs) | Weight(oz) | SKU | Model # | Pricing |
| --- | --- | --- | --- | --- | --- |
| | 50 | | | | |