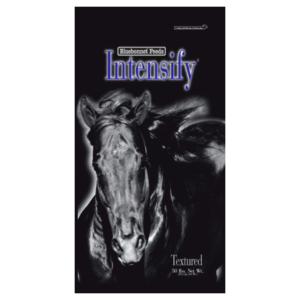 Intensify Textured feed contains Bluebonnet's "Intensify Technology" which combines cutting edge nutrition with high quality ingredients and specialized milling processes to create one of the most advanced equine feeds on the market. This feed is safe for growth, performance, breeding, and maintenance horses of all ages. This feed contains elevated levels of fat from "Cool Energy" calorie sources. Exceptional conditioning and performance can be expected when using Intensify feeds.
Crude Protein Min 14.00% Potassium Min 0.70% Lysine Min 0.95% Salt Min 0.50% Methionine Min 0.25% Salt Max 1.00% Cystine Min 0.20% Copper Min 70 ppm Threonine Min 0.50% Zinc Min 240 ppm Tryptophan Min 0.20% Manganese Min 240 ppm Crude Fat Min 8.00% Cobalt Min 6 ppm Crude Fiber Max 8.00% Selenium Min 0.50 ppm ADF Max 8.00% Vitamin A Min 6,000 IU/lb NDF Max 16.00% Vitamin D Min 850 IU/lb Starch Max 22.00% Vitamin E Min 115 IU/lb Sugar Max 5.00% Vitamin B12 Min 20 mcg/lb Calcium Min 1.50% Riboflavin (B2) Min 6.00 mg/lb Calcium Max 2.00% Thiamine (B1) Min 9.00 mg/lb Phosphorus Min 0.60% Biotin Min 2.00 mg/lb Magnesium Min 0.20% Ascorbic Acid (Vitamin C)
All Horses: Feed quality hay at a minimum of 1.5% to 2.0% of horse's body weight.
Adult Maintenance: Feed 0.4 lb per 100 lb body weight.
Performance
Light Activity: Feed 0.5 lb to 0.6 lb per 100 lb body weight.
Moderate Activity: Feed 0.6 lb to 0.8 lb per 100 lb body weight.
Intense Activity: Feed 0.8 lb to 1 lb per 100 lb body weight.
Breeding/Growing Pregnant Mares: Feed 0.5 lb per 100 lb body weight.
Lactating Mares: Feed 0.6 lb per 100 lb body weight.
Growing Horses: Feed 0.8 per 100 lb body weight. Adjust feeding rates based on desired body condition and forage quality.
IMPORTANT FEEDING INFORMATION: • Transition horses onto this feed gradually over 14 days. • Increase or decrease daily feed to obtain the desired growth, weight gain or body condition. • Offer clean fresh water and plain white salt at all times. • Weigh feed and divide feed into two or three separate feedings for best results and safety. • Store in cool dry area away from rodents, insects and moisture. • Do not use feed that appears old, molded, or has an unusual odor.
| UPC | Weight(lbs) | Weight(oz) | SKU | Model # | Pricing |
| --- | --- | --- | --- | --- | --- |
| 53352024637 | 50 | | | | |