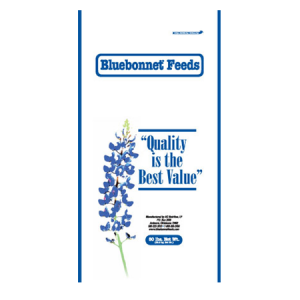 Complete Hog is an all-purpose 14% protein pellet for pigs weighing 50 pounds or more. This feed may be fed as a growing, finishing or maintenance ration for swine. This product is fortified with vitamins, minerals, and other nutrients to help ensure quality results. For added benefit, top dress with Bluebonnet Boost-Em supplement.
Crude Protein Min 14.00%
Lysine Min 0.50%
Crude Fat Min 2.50%
Crude Fiber Max 9.50%
Calcium Min 0.70%
Calcium Max 1.10%
Phosphorus Min 0.50%
Salt Min 0.40%
Salt Max 0.80%
Zinc Min 160 ppm
Selenium Min 0.30 ppm
Vitamin A Min 4,000 IU/lb
Vitamin D Min 500 IU/lb
Vitamin E Min 30 IU/l
For Growing and Finishing Hogs: Feed as a sole ration to swine which weight 50 lbs and up. Feed free choice or hand feed up to 3% of body weight daily.
For Maintenance: Feed sows and boars 3 to 6 lbs. daily as a maintenance feed.
| UPC | Weight(lbs) | Weight(oz) | SKU | Model # | Pricing |
| --- | --- | --- | --- | --- | --- |
| 53352024538 | 50 | | | | |