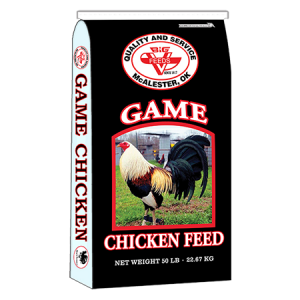 A balanced diet is necessary for a healthy flock to express their full potential. Big V Game Cock Maintenance is a blend of 8 quality grains and pellets that provide energy and optimal protein to mature birds in maintenance. Ideal for supplementing protein and energy to a variety of poultry ventures. It is the natural choice of feed that is formulated to maintain performance and production.
For mature birds not in production.
***Natural Quality Ingredients
A high quality product that contains natural botanical products that will help maintain performance and improve feed intake.
***Quality Proteins, Enhanced with Amino Acids Lysine and Methionine
Balanced with amino acids to optimize growth and maintain healthy feathers and skin.
***Vitamins, plus Organic and Hydroxy Trace Minerals
Guaranteed levels of calcium and phosphorus necessary for proper development, plus vitamins and bioavailable trace minerals to enhance immune support and reproduction.
***Blend of Pichia Yeast Product (source of yeast mannans and beta glucans), Probiotics and Saponins
By improving the level of friendly microflora, research shows that these components create a healthier gastrointestinal tract environment and improved immune response. This leads to a better ability to resist diseases and improved performance.
***Micro-Pellet and Grain Mix
Ensures that birds receive a balanced nutrition without sorting of ingredients and reduced feed waste.
| | |
| --- | --- |
| Crude Protein | Min 13.50% |
| Lysine | Min 0.45% |
| Methionine | Min 0.20% |
| Crude Fat | Min 5.00% |
| Crude Fiber | Max 7.00% |
| Calcium (Ca) | Min .0.75% Max 1.25% |
| Phosphorus (P) | Min 0.35% |
| Salt, NaCl | Min 0.05% Max 0.50% |
Adjust amount of feed for the desired condition of the bird. Keep plenty of clean fresh water available at all times. Keep pens clean.
| UPC | Weight(lbs) | Weight(oz) | SKU | Model # | Pricing |
| --- | --- | --- | --- | --- | --- |
| | 50 | | | 0490 | |