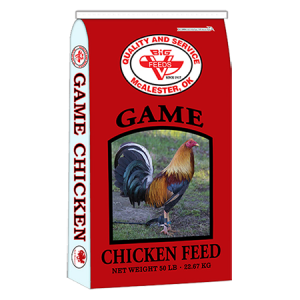 A balanced diet is necessary for a healthy flock to express their full potential. Big V Game Cock Conditioner is a blend of 8 quality grains and pellets that provide energy and optimal protein to mature birds in production. Ideal for supplementing protein and energy to birds being conditioned for showing. It is the natural choice of feed that is formulated to maximize performance and production.
For mature birds being conditioned for showing.
***Natural Quality Ingredients
A high quality product that contains natural botanical products that will help optimize performance and improve feed intake.
***Quality Proteins, Enhanced with Amino Acids Lysine and Methionine
Balanced with amino acids and grains to optimize growth, reproduction, plus healthy feathers and skin.
***Vitamins, plus Organic and Hydroxy Trace Minerals
Guaranteed levels of calcium and phosphorus necessary for proper development, plus vitamins and bioavailable trace minerals to enhance immune support and reproduction.
***Blend of Pichia Yeast Product (source of yeast mannans and beta glucans), Probiotics and Saponins
By improving the level of friendly microflora, research shows that these components create a healthier gastrointestinal tract environment and improved immune response. This leads to a better ability to resist diseases and improved performance.
***Micro-Pellet and Grain Mix
Ensures that birds receive a balanced nutrition without sorting of ingredients and reduced feed waste.
| | |
| --- | --- |
| Crude Protein | Min 17.00% |
| Lysine | Min 0.68% |
| Methionine | Min 0.25% |
| Crude Fat | Min 5.00% |
| Crude Fiber | Max 6.50% |
| Calcium (Ca) | Min 1.25% Max 1.75% |
| Phosphorus (P) | Min 0.42% |
| Salt, NaCl | Min 0.05% Max 0.50% |
Adjust amount of feed for the desired condition of the bird. Keep plenty of clean fresh water available at all times. Keep pens clean.
| UPC | Weight(lbs) | Weight(oz) | SKU | Model # | Pricing |
| --- | --- | --- | --- | --- | --- |
| | 50 | | | 0492 | |