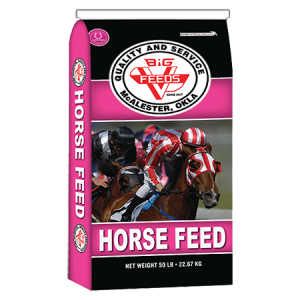 Big V 12-8 Horse Pellet is for all Equine Animal Classes.
Big V Horse feeds are designed with only quality ingredients, formulated using a fixed ingredient approach to insure a consistent nutritional product.
Whether your horse is a working horse, companion pet, broodmare, or competes in equine events, Big V has the feed to provide the balanced nutrition needed to excel and maintain proper growth.
A Balanced Nutritional Package
A combination of fermentable fiber, carbohydrates and increased fat that provides sequential energy release necessary to meet the energy requirements of actively competing mature horses and pleasure-riding horses fed good quality roughage.
Added soybean oil increases energy density, thus improving stamina and delaying onset of fatigue in active horses.
B vitamins to help promote and regulate several body functions, and added biotin to provide hoof strength and integrity.
Contains quality protein needed for cellular building blocks of enzymes, hormones, tissues and skeletal framework necessary for active horses.
Remember, young growing horses and pregnant mares are more sensitive to protein quality than mature horses because of the physiological differences.
Immune Support
Adequate intake of balanced minerals in available forms and vitamins with natural tocopherols helps to ensure normal cell function, antioxidant protection of membranes and structural tissue integrity.
Minerals play a critical role in numerous metabolic functions including immunity, reproduction, lactation, growth and development.
Negative effects from stress are reduced when horses have adequate trace mineral status with readily available minerals.
A good feeding program is based on the weight, activity level, life stage, and body condition of the horse that keeps it healthy and productive.
It is only as effective as the quality of management practices.
| | |
| --- | --- |
| Crude Protein | Min 12.00% |
| Crude Fat | Min 8.00% |
| Crude Fiber | Max 15.00% |
| Calcium (Ca) | Min 1.00% |
| Calcium (Ca) | Max 1.50% |
| Phosphorus (P) | Min 0.65% |
| Copper (Cu) | Min 18 ppm |
| Selenium (Se) | Min 0.30 ppm |
| Zinc (Zn) | Min 80 ppm |
| Vitamin A | Min 4,000 IU/lb. |
Feed 1/2 to 1% of body weight daily. Adjust amount of feed for desired body conditions. All feeding directions are based on good quality long stem roughage. Always provide salt, minerals, long stem roughage and fresh, clean water at all times. Always feed 1 to 1 1/2% of body weight in long stem roughage. Never over feed or water as it can cause founder or colic.
Warning: Contains added copper. Do not feed to sheep or other species with low tolerance to supplement copper.
| UPC | Weight(lbs) | Weight(oz) | SKU | Model # | Pricing |
| --- | --- | --- | --- | --- | --- |
| | 50 | | | 0327 | |