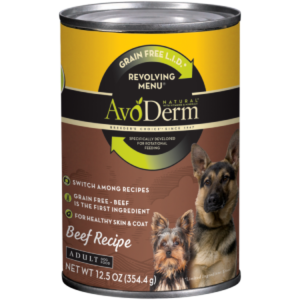 AvoDerm Natural Limited Ingredient Diet Revolving Menu Beef Recipe starts with premium protein beef as the first ingredient. By using two unique carbohydrate sources, garbanzo beans and peas, it is grain free and gluten free dog food ideal for dogs with those food sensitivities or intolerances. Plus, with nutrient-dense avocados, it helps promote healthy skin and a beautiful coat.
When feeding AvoDerm Natural Revolving Menu dog food, you can choose to feed just one recipe or any combination of recipes on the menu. These recipes were specifically formulated for the option of rotational feeding, so you can feel confident about giving your dog variety without the worry of an upset stomach.
Available in 12.5 ounce cans.
| | | |
| --- | --- | --- |
| Crude Protein | (min) | 8.50% |
| Crude Fat | (min) | 5.00% |
| Crude Fiber | (max) | 2.00% |
| Moisture | (max) | 78.00% |
| Omega-6 Fatty Acid* | (min) | 0.50% |
| Omega-3 Fatty Acid* | (min) | 0.10% |
Adjust feeding to maintain optimum weight. Amount of food your dog requires will depend on activity, age, environment, and breed. Feed at room temperature and refrigerate unused portion. Always provide access to clean, fresh water.
Can(s) (feeding canned food only)
5-10bs: 1/2 can
10-30lbs: 3/4 – 2 cans
30 – 60lbs: 2 – 3 1/4 cans
60 – 100lbs * 3 3/4 – 5 3/4 cans
Can(s) + Cup(s) (feeding canned food and dry food)
5-10bs: 1/4 can + 1/4 -1/2 cup dry
10-30lbs: 1/4 – 1/2 can + 3/4 – 1 3/4 cups dry
30 – 60lbs: 1/2 – 1 1/4 cans + 1 3/4 – 2 3/4 cups dry
60 – 100lbs: 1 1/4 – 2 cans + 2 3/4 – 4 1/4 cups dry
| UPC | Weight(lbs) | Weight(oz) | SKU | Model # | Pricing |
| --- | --- | --- | --- | --- | --- |
| 52907020063 | | 12.5 | | | |