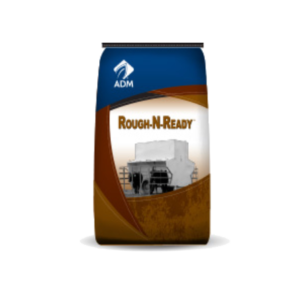 Rough-N-Ready products are high-quality creep feeds that provide protein, energy, minerals, and vitamins in a highly palatable, and are in pelleted form for feeding to calves as a supplement to cow's milk and grazing of forages.
Crude Protein (Min) 14.00 %
Crude Fat (Min) 2.00 %
Crude Fiber (Max) 25.00 %
Calcium (Min) 1.25 (Max) 1.75 %
Phosphorus (Min) 0.50 %
Salt (Min) 0.50 (Max) 1.00 %
Magnesium (Min) 0.20 %
Potassium (Min) 1.00 %
Cobalt (Min) 10 ppm
Copper (Min) 60 ppm
Iodine (Min) 10 ppm
Manganese (Min) 180 ppm
Zinc (Min) 240 ppm
Selenium (Min) 0.30 ppm
Vitamin A (Min) 10,000 IU/lb
Vitamin D3 (Min) 1,000 IU/lb
Vitamin E (Min) 10 IU/lb
Feed at the rate of 2 to 6 lbs per head per day. Allow calves free access to this feed in addition to cow's milk and grazing, or can be hand fed in any quantity calves will readily consume. Creep feeding can begin when calves are approximately one month old or when the quality and quantity of other available feedstuffs begins to decline. Locate feeders where cows and calves gather. Use suitable bunks or feeders that protect feed from the weather. Always provide plenty of clean, fresh water at all times.
CAUTION: Consumption of this product by sheep and goats may result in copper toxicity.
| UPC | Weight(lbs) | Weight(oz) | SKU | Model # | Pricing |
| --- | --- | --- | --- | --- | --- |
| | 50 | | | | |