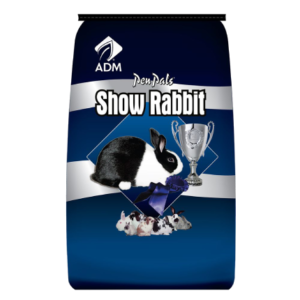 A specially fortified complete feed for growing and breeding show rabbits. It contains fiber level advantageous for smaller-sized show rabbits, supplies stabilized rice bran for concentrated source of energy, Omega Flax (Omega 3 essential fatty acid), natural-source vitamin E for better bioavailability compared with synthetic vitamin E and needed for protection against oxidative tissue damage and immune system function.
Crude Protein, min. ………….. 16.0%
Crude Fat, min. …………………. 3.5%
Crude Fiber, min./max. ……… 17.5-22.5%
Calcium (Ca), min./max. ……. 0.8-1.2%
Phosphorus (P), min. …………. 0.4%
Salt (NaCl), min./max. ……….. 0.1-0.6%
Vitamin A, min. ………………….. 4,000 IU/lb
Feed to growing and breeding rabbits. Feed requirements depend on the size, breed, and stage of growth, use, or production.
Provide clean, fresh water at all times.
WARNING: This product is not intended for laboratory or research animals. No expressed or implied guarantee as to suitability for that purpose is made.
REMINDER: Feed is perishable. Store this product in a cool, dry area away from insects. Additional Information Feed requirements are based on small to medium-sized breeds. Adjust feeding rate for larger breeds, and for all rabbits, the amount fed should be adjusted based on body condition. Overfeeding is a common problem with rabbits. Does' fertility and kindling problems increase if overweight. Proper condition should be the determining factor in choosing whether self-feeding or limit-feeding (hand-feeding) is most proper and profitable, except for lactating does and growing bunnies that must be self-fed. Limit-feeding is the preferable method of feeding breeding rabbits (resting and gestating does) to ensure proper body condition is maintained. When limit-feeding, feed rabbits the same number of times each day and at the same time each day. The number of feedings daily is a matter of preference. Rabbits should always be changed slowly from one feeding program to another (over a five to seven day period), mixing new food gradually with old food. This allows the rabbit to adjust to the new food source. NEVER add oats, straw, barley, or other foodstuffs to the rabbit feeding program unless properly advised by a competent nutritionist. This will dilute the intake of nutrients in the Pen Pals Rabbit product and could depress rabbit performance. Surroundings should be kept clean and free of dirt and parasites.
| UPC | Weight(lbs) | Weight(oz) | SKU | Model # | Pricing |
| --- | --- | --- | --- | --- | --- |
| | 40 | | | | |