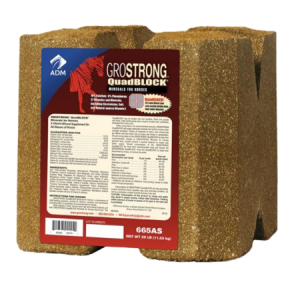 GROSTRONG Minerals provide the necessary minerals and vitamins to complement forages and grains, enabling horses to reach their performance potential. GROSTRONG Minerals are the result of unsurpassed formulation expertise and leading edge technology. Over 100 years of formulation and manufacturing expertise back the reliability and nutritional soundness of GROSTRONG Minerals. Along with good-quality forage, GROSTRONG Minerals provide the cornerstone of Forage First®programs. With Forage First programs horses can be healthy and perform at their best.
Calcium (Ca), min. 15.2%
Calcium (Ca), max. 18.2%
Phosphorus (P), min. 8.0%
Salt (NaCl), min. 26.0%
Salt (NaCl), max. 31.0%
Sodium (Na), min. 9.0%
Sodium (Na), max. 10.8%
Copper (Cu), min. 3,600 ppm
Selenium (Se), min. 30 ppm
Selenium (Se), max. 36 ppm
Zinc (Zn), min. 11,500 ppm
Biotin, min. 83 mg/lb
Vitamin A, min. 300,000 IU/lb
Vitamin D3, min. 30,000 IU/lb
Vitamin E, min. 3,000 IU/lb
When starting to feed, remove other salt and mineral products and feed GROSTRONG QuadBLOCK Minerals for Horses free-choice. The QuadBLOCK may be broken into four quarters. Feed one quarter per horse. Feed continuously near a source of water and, preferably, protected from heavy rain.When consumed in the recommended amounts, GROSTRONG QuadBLOCK will supply adequate minerals and salt for horses under average conditions. Horses at moderate to heavy work should also be offered salt free-choice due to heavy salt losses in perspiration. Should consumption of the GROSTRONG QuadBLOCK be less than recommended, change to GROSTRONG Minerals for Horses granular form, provide mineral in several locations, or locate near water supply. Should consumption of the GROSTRONG QuadBLOCK be more than recommended, feed salt beside the GROSTRONG QuadBLOCK, move the QuadBLOCK to areas less frequented by horses, or remove the block.
Age & Work Load of Horse – Recommended Consumption Lb per Month (per head) / Days per Quarter Block


Foal (up to one year of age) – 1.9 / 90-100
Yearling—3.8 / 45-50
Two-year old—5.630-35
Pony—1.99 / 0-100
Bred Mare or Stallion—5.6 / 30-35
Lactating Mare—5.6 / 30-35
Pleasure or Show Horse—3.8 / 45-50
Moderate to Hard-Working Horse—5.6* / 30-35*
Race or Performance Horse—5.6*  / 30-35*
*Additional salt should be offered to hard-working horses to offset losses through perspiration.
Consumption of GROSTRONG QuadBLOCK will vary according to each individual horse's appetite, age, size, and body condition, as well as contribution of other nutrient sources in the diet.
CAUTION: Consumption of this product by sheep and goats may result in copper toxicity. Follow label directions. Feeding added selenium at levels in excess of 0.3 ppm in the total diet is prohibited.
| UPC | Weight(lbs) | Weight(oz) | SKU | Model # | Pricing |
| --- | --- | --- | --- | --- | --- |
| | 33.3 | | | 642 | |