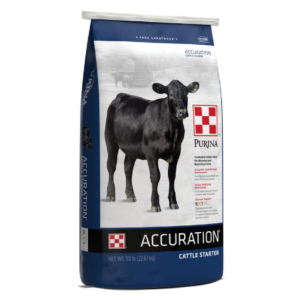 This sole ration is a complete, coarse-textured feed designed with roughage for weaning calves that utilizes the Intake Modifying Technology® process. This starter feed contains RX3® Immune Support Technology to help prepare calves' natural defenses to optimize their response to stress and common calf health challenges.
Crude Protein (Min)…14.00% THIS INCLUDES NOT MORE THAN 2.30% EQUIVALENT CRUDE PROTEIN FROM NON-PROTEIN NITROGEN Crude Fat (Min)…3.00% Crude Fiber (Max)…20.00% Calcium (Ca) (Min)…0.50% Calcium (Ca) (Max)…1.00% Phosphorus (P) (Min)…0.50% Salt (NaCl) (Min)…0.25% Salt (NaCl) (Max)…0.75% Potassium (K) (Min)…1.00% Vitamin A (Min)…1700 IU/LB
Fed as the sole ration, these coarse textured feeds include roughage and utilize Intake Modifying Technology® to help assure the targeted intake of 3% body weight. Initially, feed this product at a minimum of 1.5% of body weight and gradually increase the feed rate to 3% of body weight. For example, a 500-pound calf would initially receive a minimum of 7.5 pounds per head per day and gradually increase up to 15 pounds per head per day. Proper intake is essential to help minimize metabolic disorders and support rumen health.
| UPC | Weight(lbs) | Weight(oz) | SKU | Model # | Pricing |
| --- | --- | --- | --- | --- | --- |
| | 50 | | | 3006225506 | |