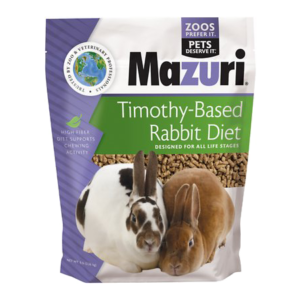 Mazuri Timothy-Based Rabbit Diet offers proper rabbit nutrition in pellet form using Timothy hay which provides lower protein and calcium for rabbits in all life stages. This highly palatable, high-fiber rabbit food is packed with nutrients and contains yucca shidigera extract to reduce ammonia odors. No rabbit supplements are needed when using this Mazuri rabbit food.
Crude protein not less than
Crude fat not less than
Crude fiber not less than
Crude fiber not more than
Moisture not more than
Ash not more than
Calcium not less than
Calcium not more than
Phosphorus not less than
Salt not less than
Salt not more than
Sodium not more than
Vitamin A not less than
Vitamin E not less than
Total Microorganisms not less than
14.00%
1.50%
18.00%
22.00%
12.00%
9.00%
0.75%
1.25%
0.50%
0.30%
0.80%
0.50%
8,000 IU/lb
70 IU/lb
3.7×107 CFU/g
Provide Mazuri® Timothy-Based Rabbit Diet free-choice to all life stages of rabbits.
If supplementation is desired, at least 90% of the diet should consist of Mazuri® Timothy-Based Rabbit Diet to ensure adequate nutrition.
Care should be taken to choose appropriate supplemental food items. For example:

Mature or elderly rabbits may benefit from food items with lower calcium.
Growing, gestating, and lactating animals may benefit from food items with higher calcium and protein.
Rabbits maintained in breeding colonies, with high rates of breeding, may benefit form a diet with enhanced energy density.

See Table (following page) for dietary composition when feeding different levels and types of hay.
Provide plenty of fresh clean water at all times.
Storage Conditions
For best results, ensure polybag seal is fully closed during storage, or store contents of open paper sack in container with sealing lid. Store in a cool (75°F or colder), dry (approximately 50% RH) location. Freezing will not harm the diet and may extend freshness. Adhere to the "Best if used by" date or use within 1 year of bag manufacturing.
| UPC | Weight(lbs) | Weight(oz) | SKU | Model # | Pricing |
| --- | --- | --- | --- | --- | --- |
| | 5 | | 0039440 | 5M15 | |